Auscanvet wrote:
Results update for my modified BST carb. Still running great, getting 23km/l, about 52mpg (USA). No issues with surging or any other bad habits...
In many others and my opinion the GSXR conversion should be "Step 1" on the list of performance mods.
"Step two" (always just my opinion) is the free mods to the air box, slide, plastic spacer and needle. This will release about 90% of the stock DR's potential.
"Step 3" another 5% with bigger main jet and ground header pipe, again very cheap mods.
BST magic indeed! Auscanvet kindly spent all of yesterday doing these step-by-step on my completely stock DR650. my first DR had the pumper carb and FMF pipe, the second one had a DJ jetting kit and GSXR pipe, so was keen to see how his setup worked on the new DR.
first, the GSXR pipe and his custom midpipe on on the otherwise stock bike
. air/fuel screw out to 1.5 turns. i've heard people say the stock pipe isn't that restrictive but a very noticeable power increase all over, particularly low to midrange. impressive, given this is a no. 35 gsxr pipe and isn't much louder than the stock pipe.
second, drilled the top of the airbox.
as per earlier posts, auscanvet doesn't go as large a hole as recommended after many hours of experimenting. felt like a drop in power down low but once the bike warmed up again it felt like the first run so nothing lost or gained according to my (highly unreliable) butt dyno. for me this confirms what everyone says, not point modding the airbox till you change the jetting.
third, put in the 155 jet from the DJ kit, the DJ needle, and a slide drilled to the usual specs and shorter spring
. nice! another very noticeable improvement across the rev range, particularly low to mid range. i was expecting to really notice a top end improvement with the bigger main jet but it wasn't huge considering the gains already with the pipe... i expect this is just the nature of the DR engine though, and possibly due to not going to the 160 jet as i wanted to retain fuel economy. noticeable punch happening now too, the drilled slide and shorter spring work well. DR pulled very nicely from low revs, especially in fifth gear. bike starts almost before you touch the button! remember DJ and mikuni numbers differ so the DJ 155 main jet is about a 145 mikuni.
fourth, this time we put in Auscanvet's modified stock needle, and a slide where he has drilled the holes out larger than normal.
this is the interesting bit! yet another noticeable improvement in low to mid range power and pick up. normally trying to pull the DR into a stand up wheelie in stock third gear takes some effort but now it was almost effortless. no offence the much respected DJ mob, as their kit does work great. but this slightly different taper on the stock needle does seem to work very nicely. hard to tell, but i think it pulled a bit better from very low revs too. deliberately overloaded it up hills at low revs and it just tractored away nicely. it did with the DJ kit too, but i think just a bit better with the modded stock needle. bit of popping on deceleration so brought the fuel air screw out to two turns.
Auscanvet is reporting 23km/l or 54 US MPG or 65MPG UK with his setup. i'm very intrigued to see if i can replicate that kind of mileage, as on my previous DR my fuel economy definitely dropped with the DJ kit (i was using a 160 though). i was getting 20km/l with the stock setup so be nice to get improved economy, extra power on tap when needed, and a potential range of 300km or 186 miles to bone dry.
thanks again Auscanvet for all the time spent showing me this stuff, learnt a lot. love the relocated rego plate, header pipe grind, extra filter for the vent tube, air front forks and modded pegs too but that's another story or thread...
if you like to tinker with your bike, this is well worth messing around with. five minutes to trim your needle, buy a suitable main jet on ebay for $10 posted or just go to a bike shop and buy one. and if you stuff up the needle, just buy a DJ kit.
a few piccies. this is the airbox mod he reckons works best after lots of experimenting.
extra bit of foam to add to the existing filter for the breather vent. apparently it's important to keep this well away from the holes in the airbox, or you may get surging that can be incorrectly blamed on the jetting.
Auscanvet's custom mid pipe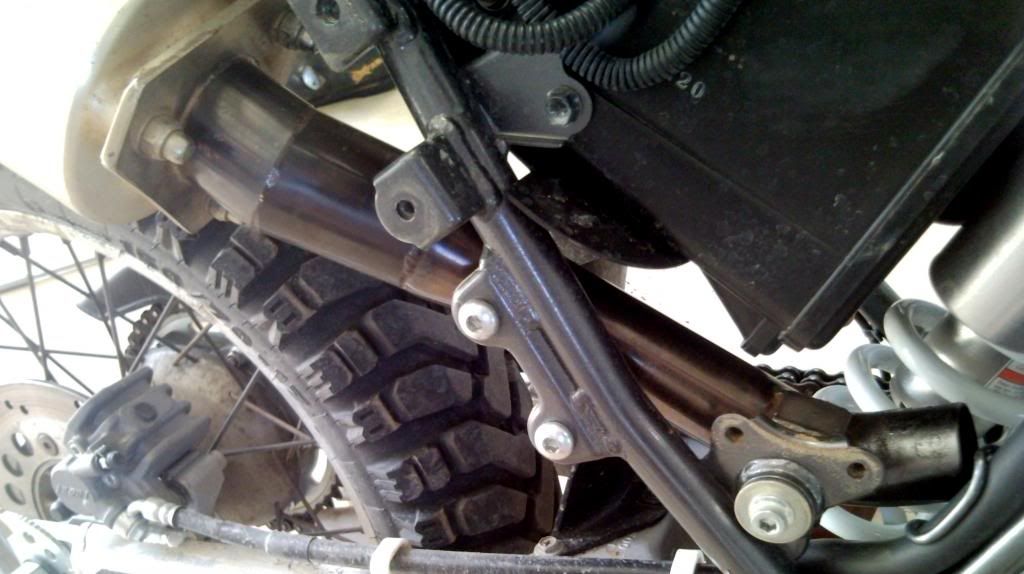 the gsxr can from a hayabusa. why doesn't suzuki put this work of art (plus a spark arrestor) on the DR standard? way lighter, less restrictive, not much louder, surely cheaper to manufacture than that stainless steel lump of choking lard?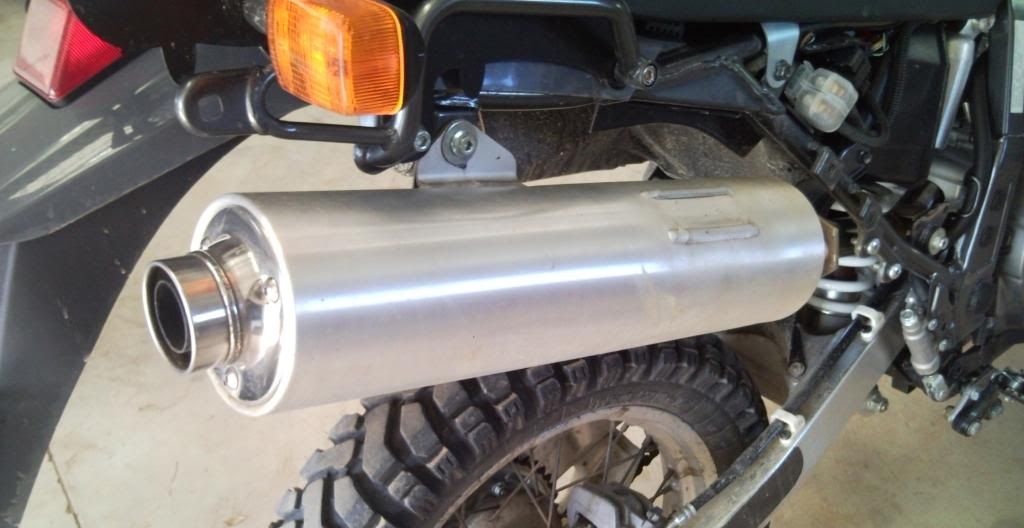 on previous bikes i'd always pulled the carby out but it was always a bitch to refit. yesterday we just swivelled it around (but careful not to break that fragile plastic choke) to access everything. we could even do the main jet once we unbolted the rear brake reservoir for access.
will probably need to add a few bricks to the front fender now to stop this happening all the time.