Now that I've been testing the EVO2 lithium battery for a couple months I feel I can give a relatively informed opinion on it... I think it's a great improvement over the standard lead-acid battery. Time will tell if the $150 price will turn out to be economically sound, but as long as Ballistic honors the 3 year warranty (Revielle can testify to that) and the battery lasts it's extimated 8 to 10 year lifespan, I'll be more than happy with it.
So far it's never failed to crank the starter strongly, even in 20 degree (F) temps. Though it does tend to crank a little slower, it's hardly noticable and it makes up for it in endurance... it will crank for much longer than the OEM would. Also, the recovery charging time is amazing... I left the lights on one night and completely drained the battery. Upon push-starting the next morning (fired up instantly) I rode to the highway and back (about a 1/4 mile) and the battery was already charged enough to crank the starter over nicely.
I have a 'Wye-to-Delta' modded stator with OEM regulator, while running my voltmeter continuously reads around 13.80v, and 13.20v with the lights on regardless of rpms.
The most significant improvement is the weight savings. The battery weighs under 2 lbs, compared to the OEM weight of over 10 lbs that's a significant difference considering the location under the seat. I've noticed a definite improvement in my DR's handling, not to mention how much easier it is to pick the bike up after a dirt nap.
Ballistic EVO

Specs
Dimensions: 112MM (L) x 60MM (W) x 103MM (H)
Positive Terminal Location: Left
Weight: 825 grams (1.81 lb)
Voltage (Charged): 13.6V
Amperage: 15 Pbeq A/H
Cold Cranking Amps: 275 CCA
Operating Environment: -18°C (0°F) to 60°C (140°F)
8 Cell EVO 2 (101-003) - $159.99
Quote:
Product Description

Your powersports vehicle is the pinnacle of modern technology. It is made with the latest lightweight, high tech materials to be the most high performance vehicle on the road, lake, track or trail. You have modified your powersports vehicle with the best in carbon fiber, titanium, and magnesium in an effort to gain every last ounce of performance. Yet, under your seat is a heavy hunk of lead that was designed in the mid 1800's.

Ballistic Performance Component Batteries use the latest, state of the art lithium ferrous energy storage technology available to provide you with a smaller, lighter, higher energy battery. Each Ballistic Performance Component Battery is assembled by hand in the USA using computer designed custom proprietary cells, cases, and hardware. As a result, Ballistic Performance Component Batteries will provide more energy out of a smaller package while requiring almost no regular maintenance and under most conditions a longer service life than existing lead acid batteries. A Ballistic Performance Components EVO2 Battery is significantly smaller and lighter than the OEM battery. We supply foam in the packaging to make up the difference between the size of the battery and the size of the OEM battery box, but some modification may still be required. All equivalency charts and applications guides are based strictly on battery performance, not size or terminal location.

Up to 80% smaller than the stock battery
Up to 10lbs lighter than the stock battery
Service life of over twice a lead acid in similar conditions
Industry leading 3 year warranty
Designed, developed, and assembled in the USA
Hard mounted brass terminals for a direct replacement installation
Completely "dry" technology so batteries can be mounted in any direction
Non-toxic, recyclable, and can be air shipped
Tested extensively by professional race teams
Impact and water resistant
No special charger required (Optimate 4 Dual Program, or any charger with a desulfation mode, not recommended)
No trickle charger required, loses only 10% of charge over a year of static use

The 8 Cell EVO2 model is our primary product. The 8 Cell model will work with everything from 450cc MX bikes to 1000cc multi-cylinder motorcycles. This battery is robust, impact resistant, water resistant, and has more starting punch than 90% of all the powersports lead-acid batteries available. Most motorcycles in this range use an OEM battery that weighs up to 10.7lbs. The 8 Cell Ballistic Performance Components EVO2 Battery weighs a little over 1.5lbs. That is a weight savings of 9.3lbs for less than $160!

Compaisons to the OEM lead-acid battery: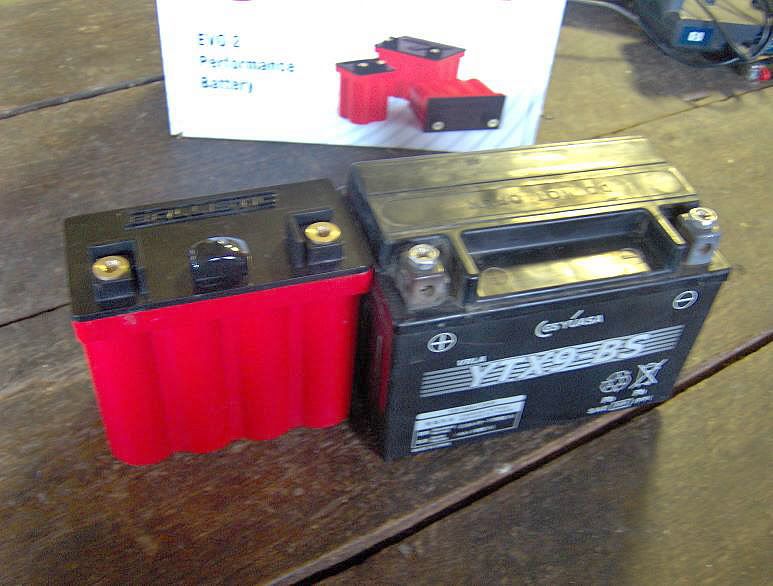 Installation: I decided to remove the stock battery box altogether for even more weight savings, and to really clean up things under the seat:
I cut 2 small slits near the bottom of the airbox on the back side, just big enough to push the heavy-duty zipties through: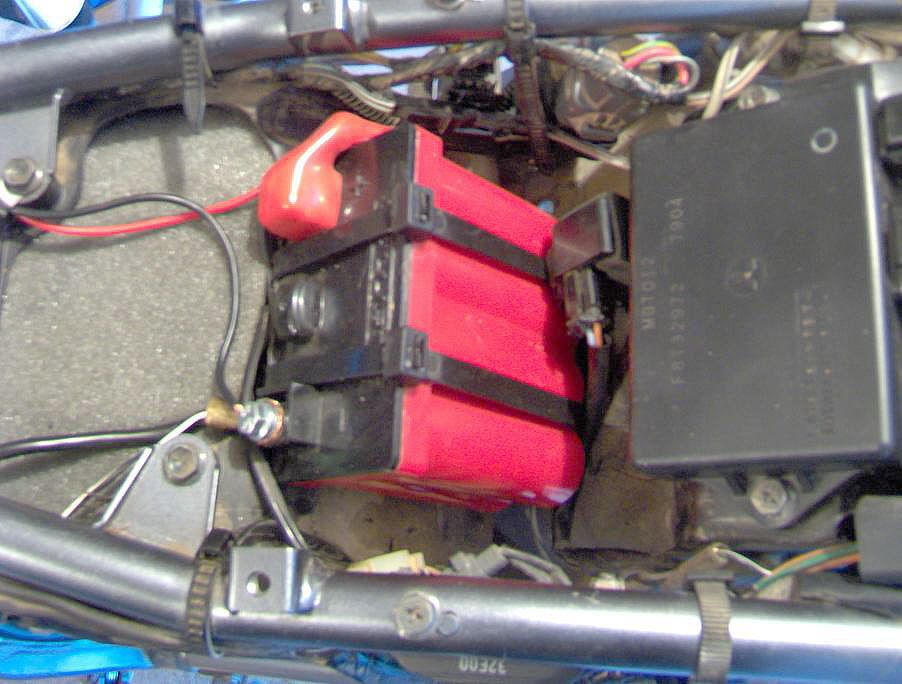 The EVO2 is very securely mounted to the back of th airbox. Because it's so light there's not much inertial mass stressing the airbox.
I also had room to mount the electrical componemst on the inside of the frame instead of outside under the right sidecover. The relay is actually mounted on one of the zipties.
I found my EVO2 on Amazon for $141.50 shipped from Mueller Motorwerks in Wisconsin, I see now there are several available from different suppliers:
http://www.amazon.com/gp/offer-listing/ ... dition=new
In summary I highly recommend the Ballistic EVO2 8-Cell Lithium battery to anyone wishing to upgrade to a lighter set-up and a worry-free battery that should last twice as long as the OEM lead-acid battery.