Thought it might be fun to post up pics of our DRs showing what she looked like when we first got her and what she looks like now... just to see how far we've progressed in our never-ending farkling quests.
Here's mine when I first bought her new in the spring of '08 - the only things I'd dne was paint the sidecovers black and stuck a tailbag on her: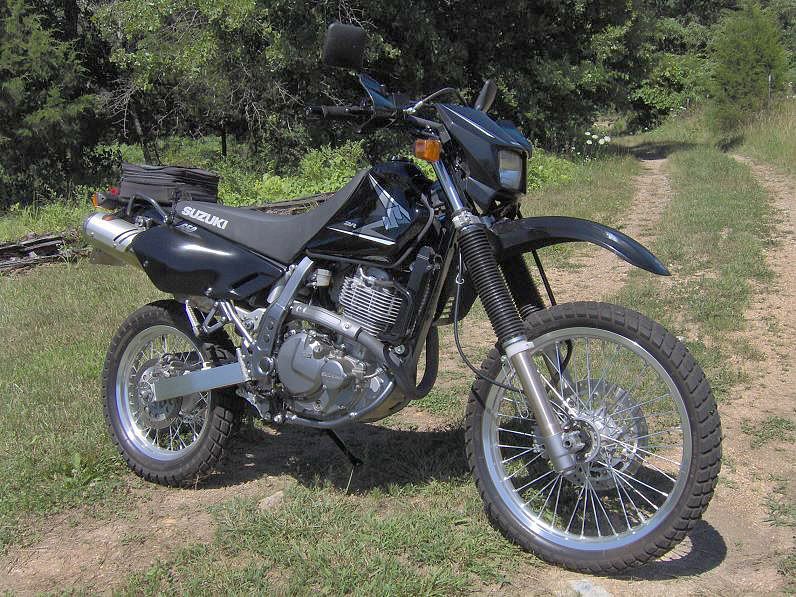 The most recent pic I have 2 years later - mods include seat, tires, skidplate, brake cylinder guard, exhaust (Termingnoni oval muffler and custom midpipe), spark arrestor, headlights, turn signals, handlebars, handguards, front/rear suspension (springs & fork oil mix), sealskins, X-wide footrests, lowered footpeg brackets (cut & weld), oversize brake pedal, rear rack (and sideracks/saddlebags not shown), jet kit, airbox mod, IMS tank, horn relocation, sprockets and chain (14/47), inline fuel filter, Uni air filter, 12v accessort plug, dash plate w/switches (lights), windscreen, 'wye-to-delta' stator mod, rimlock on rear wheel, polished header pipe, custom heat shield.
Since then I've installed two smaller driving lights below the big ones and added a spoiler/lip on the windscreen, smaller round mirrors, and a lithium battery.
I'll post a more up-to-date pic soon.
Let's see how much ya'll's DR's have evolved... post 'em up! :s_thumbsup