You asked for it.....
I've literally spent hours on a dyno (SuperFlow Cycledyn) with DR650's. My 99 multiple times and a machine with a Procycle 725 big bore kit.
So let's get into it!
A little base info.... I love my DR650 because of it's wide torquey power spread. This is no high revving peaky power machine so I'm not impressed with top HP numbers as much as the overall power and enhancement of torque. My goal in every modification I've done is to
not give up
anything in the areas where the DR650 really shines for me. If your value of HP is more important then by all means...
First test shown here is a pipe comparison between the stock, FMF Q-2 and the 40F0 GSXR muffler. All tests with stock header.
Next is just the dyno run for the 39mm FCR-MX. I have lots of tests with different FCR-MX configurations, this is the one I run on my machine.
Speaking of different configurations. I also built a 42mm FCR-MX for testing. The HP freaks will love this,.... however referring to my statement above about not giving up any of the great useable power spread on the DR650, I was less impressed.
Next is the test after doing my engine mods. They consisted of a J&E HC piston, Web 223 cam and mild head work including a multi-angle valve grind and port cleanup/matching. My particular machine had terrible port to valve seat matching from the factory. This also included decking the cylinder to get my squish set to .035" where I wanted it. This required removal of .011" of material.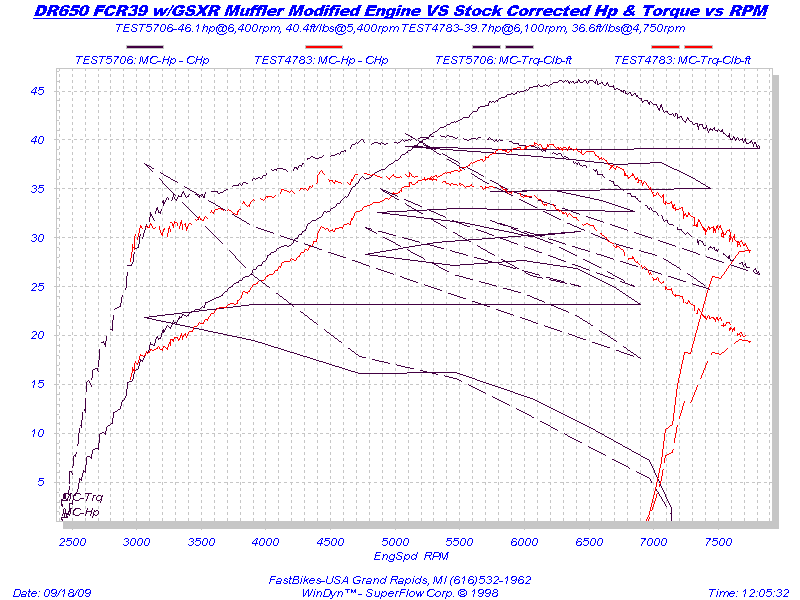 After posting all these tests another member who already had one on my 39mm FCR's and a 40F0 GSXR pipe contacted me about driving out to have my dyno shop test his machine that he'd just added a Procycle 725cc big bore kit and Web 245 cam to. He also purchased a FMF PowerBomb header. He made the normal "I must need bigger jets after all these mods" assumption and brought the machine to me with it ready to go on the dyno. It didn't take long for us to be right back at my original jetting specs because of EGA readings. This is a comparison to my modded engine machine.
What a tractor:
I then asked if he'd mind I yanked the stock header off of my machine and test his setup with it instead of the FMF PB. I also asked if we could test his big bore machine with my built 42mm FCR-MX. The following tests further fueled my belief that bigger is not always better. At least not in this particular case anyway.
This is a chart with every combination.
And finally my FI project dyno run. This is my modded engine and 40F0 GSXR muffler with a stock header. Here the 43mm TB certainly increased top end while not losing as much down low as it could have due to superior atomization. TMI?