WoodRat wrote:
IMO the stock 525 chain will last longer than the lighter 520 with comparable use. The heavier gauge makes the 525 chain more resistant to stretching,
We may call it stretching, but a chain doesn't stretch. It's not a rubber band. Steel does not stretch, and if it does breaking is neigh! :P
A chain gets longer as a result from wear between the pins and the sintered bush (see pic)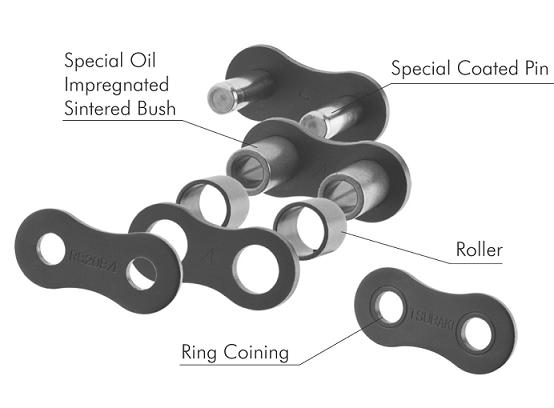 Yes, of course it takes more time to wear away if the bush is wider, but the difference is not that big (6/16' v 5/16" = 20% in favor of the 525). The wear between the bush and the roller may be more important. The pin-bush area is sealed off with the O-ring, the roller-pin area is far more exposed to the elements. The outside of the roller is in direct contact with the sprockets, and exposed to dust, sand rain etc.
No way we can prevent wear here, nature of the beast. The only thing we can do here apart from lubing the chain, is also cleaning the sprockets every now and then.
So, the sprockets wear, and so does the the outside of the roller. The inside of the roller in turn rubs against the bush. As a result the roller becomes smaller on the outside, and at the same time the inside diameter wears out. A worn chain is easy to recognize by how loose the rollers are.
To put things in perspective, a properly lubed 520 lasts longer than a poorly lubed 525.
my $0.02
_________________
Firm believer in lower pegs.