Day 4 – White Cloud to Cadillac : Total 14h 20m, 158miles, Moving Time 10h 7m, Avg Moving Speed 15.6mph, Avg Speed 11.0mph (Missed recording a small section)
We started out this day with what could be considered a near cheat. The plan was to ride from Cadillac to White Cloud on the MCCCT trail, then take roads back to. Neither Eric nor I were too excited about 70+ miles of road riding at the end of the day, nor the 17 miles of it at the start of the day just to get back to the trail (it was about 45 degrees out, so that meant it'd be a cold morning road ride, then carrying a jacket the rest of the day). So we loaded the bikes in Eric's father's truck and were chauffeured in luxury off to the trail head at White Cloud. Hey, we weren't skipping any of the MCCCT, we were just avoiding large backtracks.
Pulling into the trail head we remembered it was now Saturday on a holiday weekend. There were 3 bikes just getting ready to pull out, and another truck/trailer pulling in. Up to this point we had still only seen the one KTM 450 over the 3 previous days, plus 4 quads (2 groups of 2). Not only was this the beginning of seeing a lot of other bikes on the trail, but also the beginning of seeing all those bikes that you know still exist, but almost never see. Two of the bikes in the parking lot consisted of an XR400 and an RMX250. Both used to be commonly seen every weekend, but now that they are 20 years old they seem to have all been regulated to the back corner of some garage, barn, or shed.
Getting rolling conditions were pretty nice. Must have been some rain, as the sand was decently damp, and there was even mud in the holes. Better than dust. Things were rolling along nicely, then on a small hill I noticed a kick start lever laying right in the middle of the trail. Stopped, ran back, and picked it up. Figured eventually we were going to catch up to someone having a bad day bump starting a bike in sand. It wasn't but a few minutes later we caught the group from the parking lot taking a breather. No one claimed the kicker, then the rider on what was probably the newest bike there (YZ250F I believe) took a reach down and realized, no kick start lever. Stuck around long enough to make sure he had a spare bolt to secure it, then went on our way.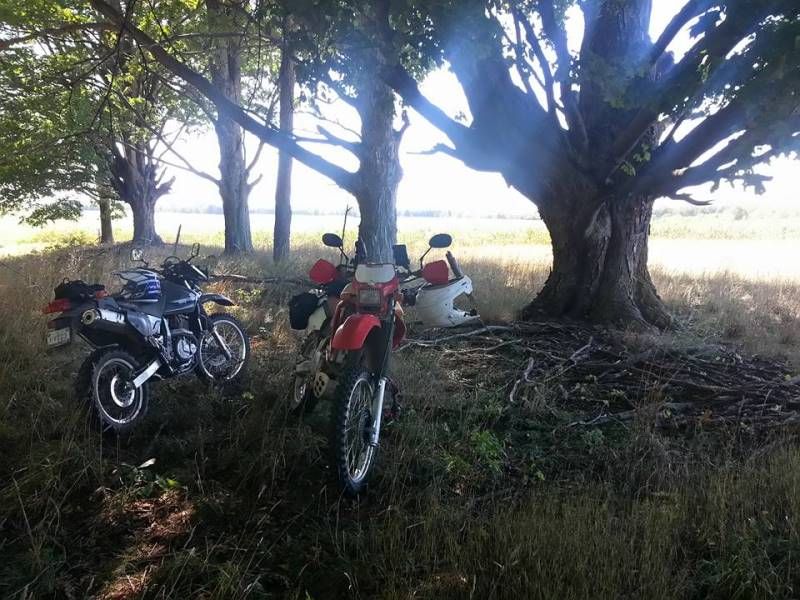 Mostly an uneventful day. Lots of mix again, 50" ORV trail, wider ORV route, and some roads. After getting gas at Wolf Lake the trail started running next to, and then dumping onto, the wider ORV routes. Normally not a big deal, but it was now late Saturday evening on Labor Day weekend. There was a lot of people out, and many, many side by sides. All that kept going thru my head was "how much has everyone been drinking?" and "please don't meet a 4 seater power sliding a blind corner….". Really only had one sort of close call with a SxS that made no effort of moving right, nor of lifting his foot off the floor. I was off near the right of the trail wobbling along as that 4 seater absolutely roared by a foot and a half away. Eric was a ways back and had the experience, hardly enough time to get the bike out of the center ruts to move right, and the SxS ripped by with barely a whisker of space and the throttle still pegged.
As darkness fell I realized how close the motorcycle-only sections of trail run to the ORV route through Little Manistee and Lincoln Hills. A number of times I thought headlights were oncoming bikes, only to realize that the route trail was paralleled 15 yards away. I wonder what those people thought was going on seeing a bike headlight twisting back and forth every 2 seconds and bouncing around in whoops. Saw a good 2 dozen bikes this day, and probably quadruple that for quads and side by sides. When we stopped at the Pine River bridge below we heard a group of quads/side by sides coming up and moved out of the way. We were surprised to see it was actually a flock of lifted golf carts.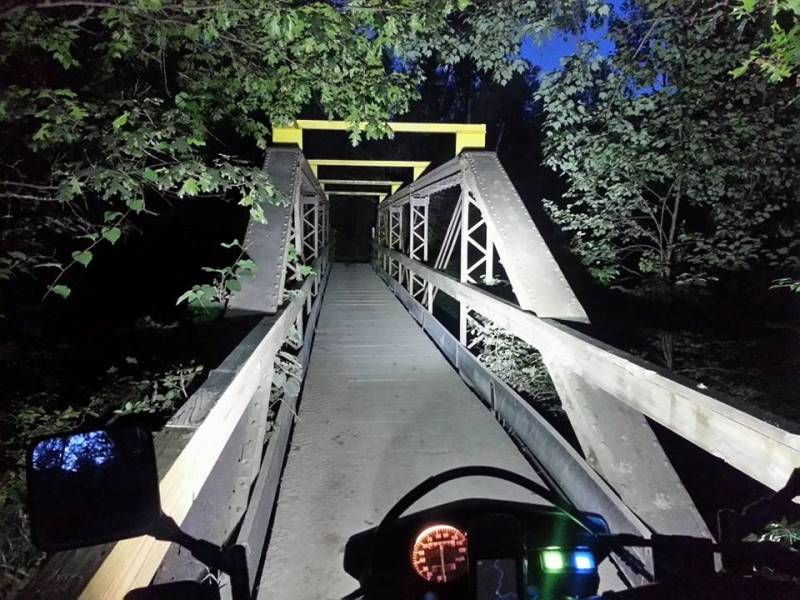 By the time we hit the MCCCT connecter from Lincoln Hills to Caberfae it was after 9 pm, and completely dark. The pace was slowed greatly due to very narrow trail, and again by Eric's lack of acceptable lighting. "Ride by feel" I believe is how he put it. Despite lighting deficiencies, it was a very fun section of trail. I'd like to ride it again, but in the day time, and on something half the size of a DR650. I did get to spot a flying squirrel that ran along the trail and then up a tree (but didn't treat us to a flight), and several woods jumping mice, which are just comical to watch hop away. Cartoonish would be a good description. Also, Eric's tail light decided to part ways with the bike. He noticed when the lens/housing kept hitting him in the back, hanging on in the whoops for dear life by the 1 wire that remained attached. There wasn't anything worth taping up after that.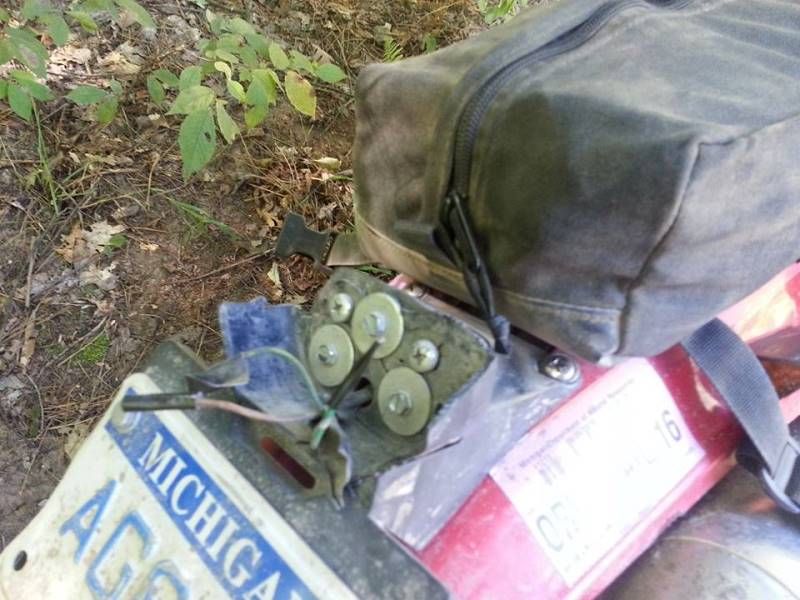 Around 11 pm we hit M55 and headed into Cadillac, stopping at the first McDonalds spotted for a healthy after-ride meal. It apparently was the hot place to be. When we arrived we wondered if the dining area was even open. After we ordered people just kept streaming in, and we witnessed a picnic, we think. A group sat down at the tables outside, had their own Tupperware containers of food. And then more food. And then paper plates were passed around. Then a cooler arrived with more food. Suddenly a gallon of milk came out from a car and set in the middle of the table. It was just sort of strange to see a group of people bring all their own food to eat at McDonalds in the middle of the night.