I ended up skipping on Hidden Canyon. Knees were starting to feel the descent, and I had to save them from more climbing if I was going to tackle Angels Landing the next day, so I opted to hit some of the lighter hikes down by the river. The Emerald Pools were nearly nonexistent while I was there, but the walk was neat.
The rest of it, along with the Pa`rus Trail (bike path) was pleasant and relaxing but in bright mid day sun, and none of my pictures were very exciting.
For a last hurrah before gearing back up and throwing a leg over my bike, I stopped off at Zion Lodge. Nice. Too bad the restaurant wanted reservations because I wasn`t in the mood for snack bar fare.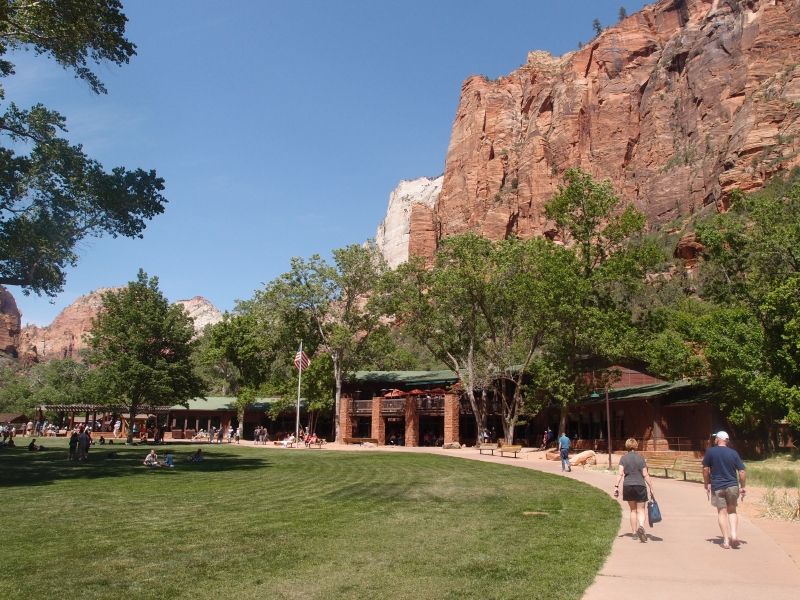 Back to the bike I was happy to see that none of my gear had escaped after waiting unsupervised for 6 hours or so. I wasn`t sure where I would stay for the night, but wanted to see the Mt Carmel Tunnel, so I headed that way hoping to find a solution somewhere. The highway up Zion Canyon is a dead end, unauthorized private vehicles prohibited beyond the turn off for the tunnels. From that junction over SR 9, through the tunnels to Mt Carmel Jct is the "drivers" version of Zion. That was supposed to be worth seeing too. It turns out to be a great road for motorcycles!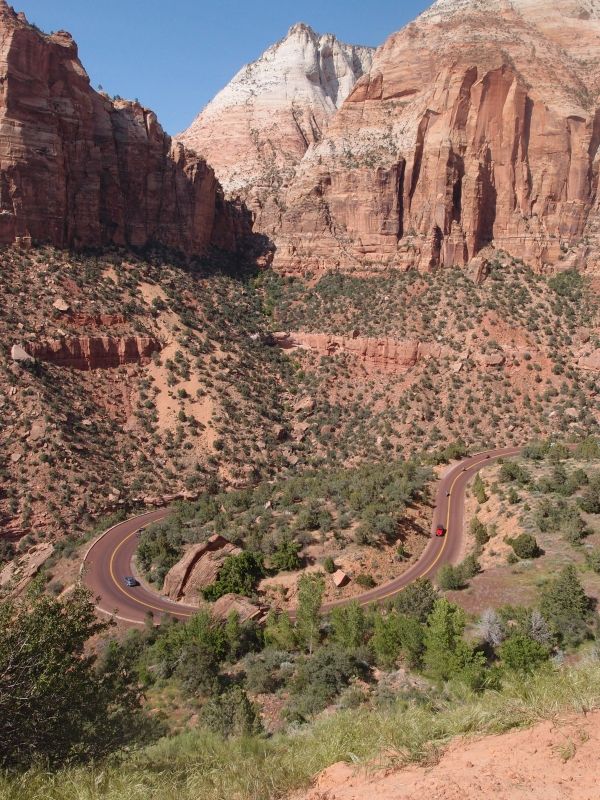 The Zion Arch...
The tunnels are right after the arch. Couldn`t find a convenient spot to pull over within view of the tunnel mouth, and no stopping allowed inside, so no pictures of the tubes. Bummer because they were built before traffic was a major concern, so big windows are cut in a few places in order to enjoy the view of the outside world from a unique perspective. After the tunnels, I missed the stop for the Overlook Trail (Dag Nabbit!) and then a big string of cars and RVs were comming and I didn`t want to turn around. I did find a place to stop for Checkerboard Mountain.
Luck came my way as soon as I exited the park. I caught a glimpse of tents set up and a sign about a private campground. Stopped in to see if maybe they had anything available and they did- $27 a night with shower and laundry room, YES! Signed in, got back on the bike, and continued to Mt Carmel Junction just to see what it was all about. That was a good idea. How can you refuse Ho-Made pie?
One slice of strawberry rhubarb, please.
Then to a convenience store for a little box of detergent and back to camp. I had talked on the first day to several people who already hiked Angels Landing. They all assured me that it was an experience not to be missed, but very crowded on the trail, especially when it got to the chain sections (think Half Dome cable except with a lot of intermissions). I heard from a few of them that the upper part was like hiking in a pack train, having to stop and wait at each chain section for the next opposing train to go past. Climb, wait, repeat. Decided to get up super early and be on the road by five O`clock in order to catch the first shuttle at six and hopefully not have to share so much, so as soon as I was showered and had washed my clothes I hit the sack. End of my first day in Zion.