Ok, so starts my side cover endeavor. If you've seen my other thread (
mud parts
), I'm extending what I've learned on that last test project and applying these techniques to fabricate/replicate new side covers for my DR. What I'm aiming to do is create a set of custom carbon fiber side covers for my super motard-ish project, to give the bike a bit more sporty look in that trim.
In a nutshell, I will be cloning the oem side covers, creating plaster cast mold negative, then laminating new CF replicas from this one-time (one-off) mold process. Finally, adding a custom paint and color scheme.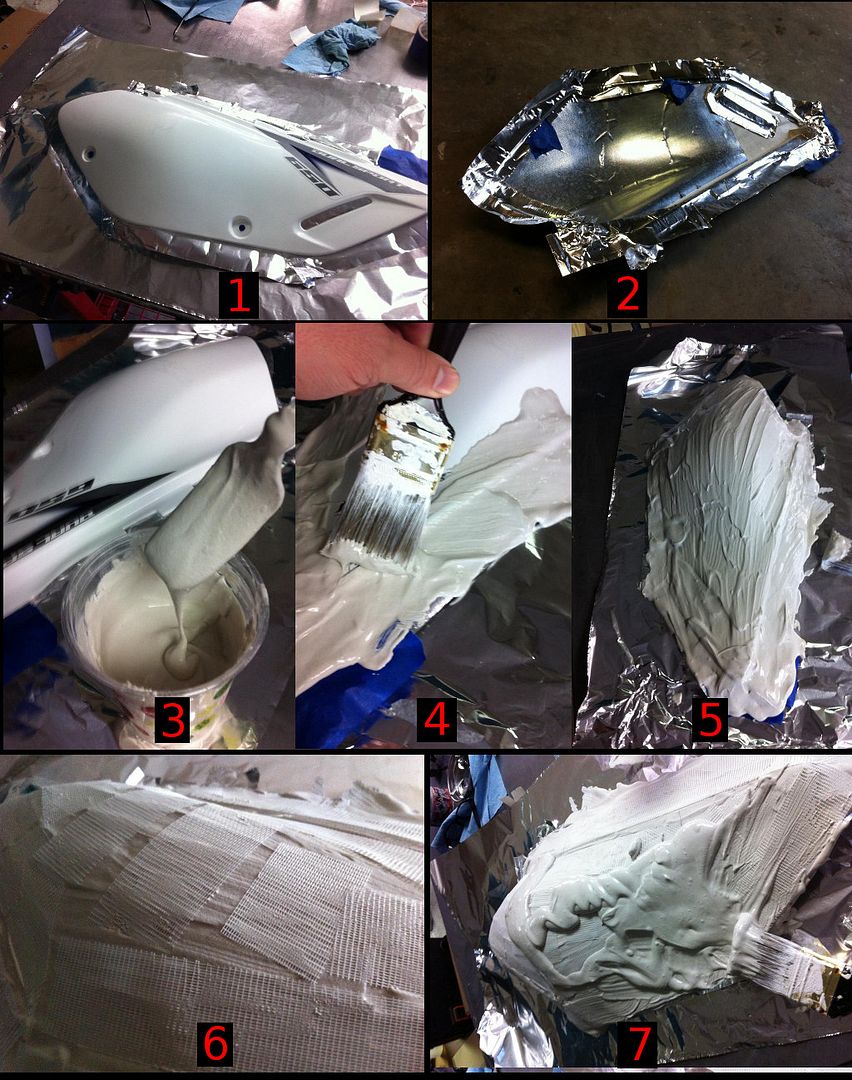 Referencing the above pic …
(1) & (2) Here, I've started by adding some aluminum ducting tape to the backside of the oem cover. The over-hang is going to provide the flange area needed for the mold. I like the aluminum tape because it is real sticky, & and it retains it's shape being more sturdy. The flange area simply extends the original part so that we have more room to work when casting a new part from the mold.
(3), (4) & (5) So I started by mixing up a thin mixture of drywall hot-mud, 20 minute so I can get this done in one evening.
(6) & (7) It's important to add some reinforcement "grid" tape. I lay these in right after I spread the mud on, just tap it on and then wait 20 min for that mud to set-up. Now mix up new batch of mud (thicker) and spread it over that grid tape, followed by another layer of grid tape. Lasagna – ummmm, I'm getting hungry. Do this at least 3 times, maybe more, you'll have a good strong mold.
Referencing the above pic …
(8) Ok, the mold has setup fully ( a few hours ). Here, I'm pealing off the flange tape so I can reveal the edges in order to pop the oem part free.
(9) It's almost no effort to free the oem cover as plaster doesn't stick much to plastic. A tip however … I did wax the heck out of the cover prior, just in-case.
(10), (11), & (12) Well, the casting process is almost "too" perfect. As you can see, it captured the relief edge of the oem sticker ! Not really an issue however … I just sanded & feathered it smooth.